Tony & Cheryl Hilton's 1972 Imperial LeBaron 4-dr. Sedan
---
Imperial Home Page -> Imperials by Year -> 1972 -> Tony & Cheryl Hilton
---
(Click on any small picture for a larger view.)
"Genie"

owned by Tony & Cheryl Hilton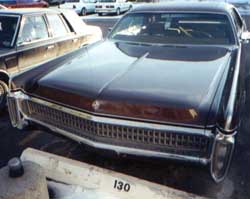 Genie, as she appeared in November, 2000
At the beginning of October 2000 I went out early in the morning to head off to work. As I approached the driveway where my car was supposed to be parked the first thing I noticed was the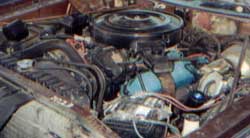 driveway was empty. I notified the police and assumed I would hear something in the next couple of days. A couple of days turned into a couple of weeks and finally after about three weeks we decided we had to start looking for new transportation. Not being wealthy (or having theft on our stolen car) we (us and the bank) put a limit on our purchase of three thousand dollars. After looking high and low for about a week and a half we discovered that kind of money buys a lot of crap. At any rate we were getting a little depressed. My mother-in-law happened to be in town and was visiting some old

friends. She casually mentioned that the lady had a 1972 New Yorker for sale. I told her that we weren't looking for an old fixer upper but we needed good dependable transportation (after all we were used to the luxury of a 1986 Caravelle)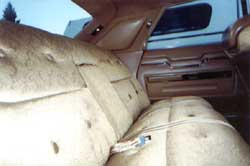 . After a couple more days of scouring the city and coming up empty my wife convinced me that it wouldn't hurt to look at this lady's car. Reluctantly I agreed to look. My wife made the appropriate calls and a viewing time was agreed upon. The next day we arrived at a little old house in an older district of Calgary. It turned out the lady who owned the car was 84 years old so her daughter was selling it for her. When everyone arrived they took us down to an old garage. When they opened the doors we couldn't believe our eyes. There was this huge brown car covered with thick dust, completely filling the garage. On closer inspection we saw that it wasn't a New Yorker but it was an Imperial. I could barely fit in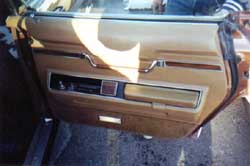 front of the car to open the hood. The only way to get around the back of the car was if the garage door was open. We checked the car over and could find nothing visibly wrong and everything appeared to work. We thanked them for their time and left telling them we needed to think about it. They wanted $3500 which was over our budgeted amount. The next couple of days we talked ourselves into and out of buying it a dozen times. Finally my wife, who I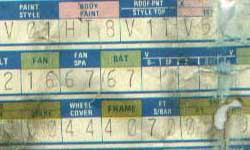 believe was tiring of every conversation turning into the pros and cons of buying a big brown car said if you want it buy it. You know you'll be kicking yourself if you don't. We called the people back and said if they still had the car we would be interested if we could take it for a mechanical inspection. They agreed and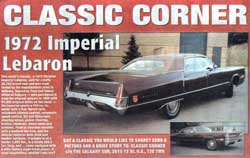 the rest is history. Shortly after getting Genie (her name since birth) we had to replace the master cylinder and we had to have some welding done on a cracked alternator bracket (it seems that it is unique to that model car). We have since had the front and back brakes done although after three visits to the shop they still cant seem to stop the front ones from squeaking. We had to have a few leaks repaired which I'm told is not uncommon for a car which has been parked for a couple of years. Since Genie became part of our family she has changed our lives. If you had told us three years ago that we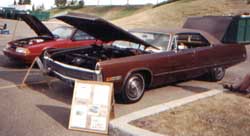 would be spending our weekends sitting on lawn chairs in parking lots we would have called you crazy. Now we not only spend our weekends sitting in parking lots but we spend the better part of the week planning and preparing for it. I think we have become show 'n' shine junkies. Genie is an all original 1972 Chrysler Imperial LeBaron 4 dr. hardtop. She is equipped with 440 engine and has power windows, brakes, steering, seats, locks and antenna. She has tilt & telescopic steering, factory eight track, automatic climate control and rear window defrost. When we purchased her she had 47000 original miles on her (she now has 56000). She is a daily driver and as she is our only vehicle she is driven rain, shine or snow.
More Pictures of Genie
---
This page was last updated March 7, 2002. Send us your feedback, and come join the Imperial Mailing List - Online Car Club
---