A Mist Green 1973 Imperial LeBaron
---
Imperial Home -> Imperials by Year -> 1973 -> Mist Green LeBaron
---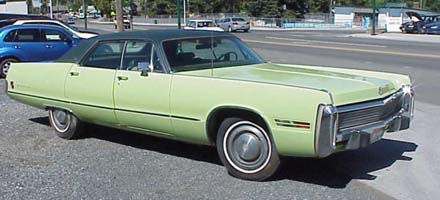 Why are all the perfect original cars always green? This Mist Green LeBaron was spotted for sale on the Internet earlier this year. Here's some information the previous owner had to say about it:
This car is fully loaded with all the bells and whistles. It has the rare floor-mounted from factory cassette player, push button AC, Temperature Control, power seats, power windows/doors, if you name it, it definitely has it. This was the flag ship with all the options and special orders from the factory. It has been in storage most of its whole life, not known to ever spend a night outdoors. 53,238 ORIGINAL Miles.

The dash picture shows the switch for real A/C. That means it could not have rear window defogger (air movement) as the A/C vents come out of the package shelf. The dash picture also has the switch for the electric antennae (think that was standard in 1973 Imperial). The steering wheel is also tilt / telescopic by seeing it in the pictures. In case I want to bid on the car, what color is it.
If you're the new owner, come join us at the Imperial Club and tell us about this beauty!
click on any picture below to see a larger version

---
This page was last updated 5 January 2006. Send us your feedback, and come join the Imperial Mailing List - Online Car Club
---