Bradley Teets' 1974 Imperial LeBaron
---
Imperial Home Page -> Imperials by Year -> 1974 -> Bradley Teets' 1974 Imperial LeBaron
---
Bradley Teets owns this 1974 Imperial LeBaron with the ultra-rare Crown Coupe package. The Crown Coupe package was offered mid-year for 1974 as a part of Chrysler's 50 year anniversary. Only 57 Imperials were built with this option in 1974, making it one of the rarest of all Imperials.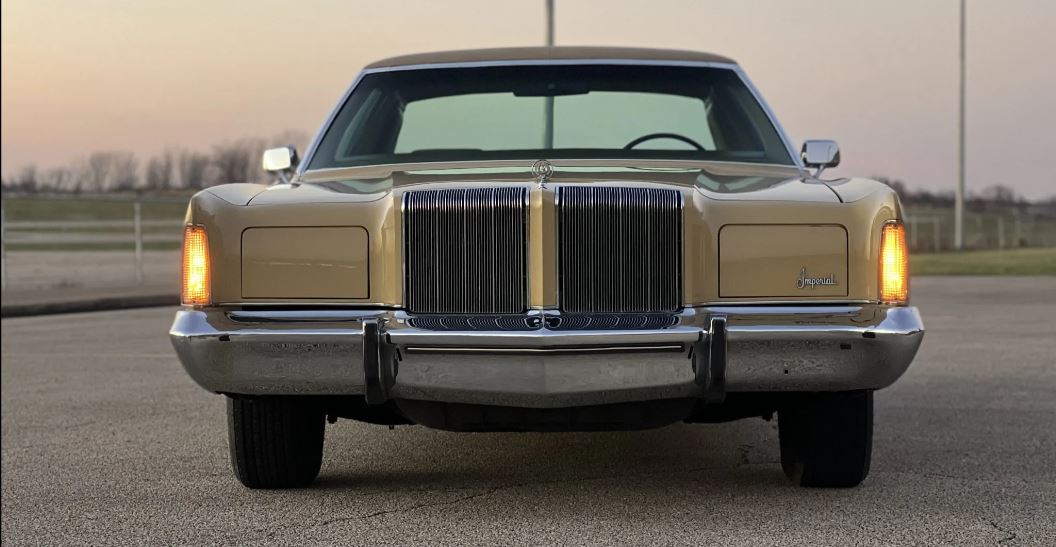 I finally did it: I acquired an Imperial of my own!
My history with MOPAR goes back to early 1960's as a child running around my grandfather's small town, Western Maryland Chrysler / Plymouth GMC dealership. He was my father figure (my world). I wanted to be a car dealer. That dream came to a sudden end in March 1972, when my grandfather died unexpectedly while vacationing in Fort Lauderdale, Florida. Chrysler gave the franchise to the male employee managers instead of my mother and grandmother. With the fuel embargo that came not long afterwards, it might have been a blessing.
I always loved Imperials. My grandfather did not sell many of them. When he had one in stock for a customer, I would check it out from top to bottom before the buyer took title.
I helped my grandfather order their 1972 Imperial 4 door for their 50th wedding anniversary. He died less than 6 months after getting the car. We kept the car in the family until 1977 when we sold it to a Chrysler dealer in PA. I learned to drive on that car in 1974 and took my now wife of 45 years to our first date, senior prom in May 1975. I saved the factory invoice and my grandfather's handwritten notes about which options to price in on the car as a keepsake. I only wish I could find someone who later owned the car who might want the factory invoice. I even kept the 1972 factory dealer feature / fabric order book when the model year was over. With harsh weather up north, the 1972 Imperial likely is long gone by now.
Please click on the pictures below for a larger version.
Over the years, I have considered several different possible Imperial choices. Nothing ever materialized. I looked for Shriner convertibles, Mobile director crown coupes, etc. I then found this 1974 Imperial LeBaron with RARE (1 of 57!) Crown Coupe package for sale on Bring A Trailer site. I had just sold my 1983 Blazer which made room (sort of) in my man cave. We all know 1974 Imperials are longer than 1983 Blazers. I never really thought I would find a 74 Crown Coupe package. I have known for years there were only 57 1974 Crown Coupes made as a spring sale promotion for Imperial. Thus a rare bird. I doubt if more than 10 or so are out there. Here it is December 2022, when the subject car ended up for sale. I found it by accident on the Bring A Trailer website. I nursed the auction along for the week and only had a few bidders in the way on the final half hour. They dropped off and now it is to be mine. Probably only about 100 people who know what a 74 Crown Coupe is and only 75 who actually care. LOL!!!!
This one might be unique from others in that it has gold cloth interior instead of the tufted gold leather. I am happy with the cloth. I will try to find new shoulder belts as apparently someone cut the original ones out to make rear seat access easier. I can't wait to take this car to local shows alongside a retired MOPAR technician friend who has a triple white 1978 NYB St Regis. He even got the rear side windows on his car to go up and down, as the cars have the mechanism inside the trim panels (just no controls on the driver's door gang switch). I want to thank the team of caretakers for this valuable Imperial site as I have been a follower here for many years. Seems like 18 or 20 years. Internet has come a long way since then.
Video of Cold Start

Download the MP4 video.
---
This page was last updated January 31, 2023. Send us your feedback, and come join the Imperial Mailing List - Online Car Club
---