1974-75 Imperials with the Crown Coupe Package
---
Imperial Home Page -> Imperials by Year -> 1974 -> Crown Coupes
---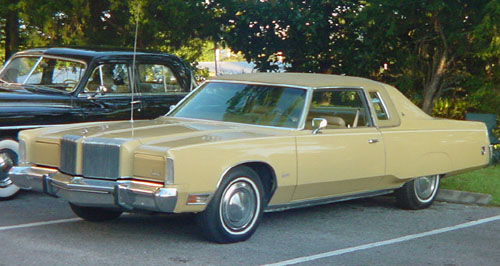 Ed Jones' 1974 Imperial LeBaron Crown Coupe
The Crown Coupe package (dubbed the St. Regis package on New Yorkers) was first offered in March 1974, and was promoted to celebrate Chrysler's 50th anniversary. Rather than a separate model as the Crown had been prior to 1970, this Crown Coupe package was an option package for the Imperial LeBaron two door hardtop.

The '74 Crown Coupe's official title was the "Imperial LeBaron Crown Coupe Silver Anniversary Edition." Only 57 Imperials were manufactured with the Crown Coupe package in 1974, making it one of the rarest of all Imperials. The main difference between other Imperials and the Crown Coupe is the treatment of the vinyl top. For the Crown Coupe, the padded vinyl top covers the forward three-fourths of the roof, with a special fixed "opera glass" treatment of the rear side glass. The rear window used was the larger Chrysler glass, and not the usual smaller LeBaron style. A "LeBaron" nameplate appeared on the C-pillar just to the rear of the vinyl roof. The option package code was V4Y in 1974 ($527) and V4C in 1975 ($579).

All 1974 Imperial LeBaron Crown Coupes came in one color: Golden Fawn (KY4) with a gold vinyl roof (V4Y). Color choices for the 1975 Crown Coupe package were expanded to include LA2 - Silver Cloud Metallic (V4A), KB8 - Starlight Blue Metallic (V4B), KG8 - Deep Sherwood Metallic (V4G), KT9 - Dark Chestnut Metallic (V4T), EW1 - Spinnaker White (V4W), TX9 - Formal Black (V4X), KY4 - Golden Fawn (V4Y), and LY6 - Inca Gold Metallic (V4Y).
In the '74 Chrysler-Plymouth Catalog, a picture of the Crown coupe is accompanied by the description "Silver Anniversary LeBaron Crown Coupe." However, in the '75 showroom catalog, the caption under the coupe states, "A further touch of elegance--the optional Crown Coupe opera roof." Presumably this change in nomenclature indicated that the '75 Crown Coupe package had been added to the standard option list, and its production of 1,641 units reflected this change.

Note that the '74-'75 Crown Coupe package was an option package, and should not be confused with the Crown Coupe models available from 1964 through 1970.

The Imperial LeBaron Crown Coupe package was mirrored on the 1974-1978 Chrysler New Yorker Brougham in the St. Regis package.
---
---