My 200,000 Mile Imperial
by David Whitney
---
Imperial Home Page -> Imperials by Year -> 1991 -> David Whitney
---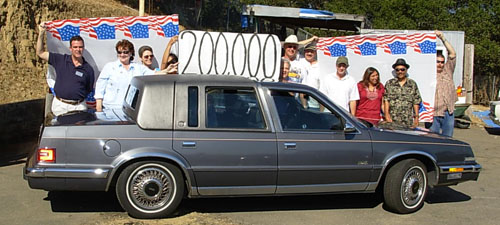 This is the first Imperial I ever bought. I rescued the car from under a carport in Belmont, Calif., after I saw the ad on craigslist offering it for sale. If I had known then what I know now about '90s Imperials I never would have looked twice. The air bag suspension was deflated. The hood ornament and the wheel covers were missing. 150,000 miles on the original engine and transmission. The battery would not hold a charge.

What sold me was the condition of the black Mark Cross leather interior. It was missing one ashtray cover, and the driver's side seat trim was broken from heavy American butts sliding across it while getting in and out. The rest of the interior was and continues to be in excellent condition. The exterior is very good, with one cracked tail light lens and one missing piece of trim.

I spent three times the purchase price to make it roadworthy and presentable enough to serve as a daily driver -- new tires, replaced the factory 4-wheel air ride suspension with Dodge Dynasty parts, transmission flush and fill, battery, wheel covers and a hood ornament. Since then I have spent again that much on normal old car stuff like brakes, a new radiator, new water pump and timing chain cover (a single $500 part on these cars), and having the entire digital dash removed and rebuilt.

This car is the ultimate road trip Imperial. It gets 30 miles per gallon at 75mph. The freeway noise can best be described as the same muffled whine you hear from an airplane's turbine engines when you are sitting inside the pressurized cabin. It handles like a dream, even at speeds I do not care to confess to the California Highway Patrol. I do not mind when it gets a little parking lot ding. My mantra is, "It's not a show car, it's not a show car..."

It is not well optioned for a '90s car -- no sunroof, no hands-free phone, no CD player. It does have all the features that draw us to our Imperials. It's quiet, it's comfortable and it's stately. After really driving this car for the first time I decided this is the one I want to continue to throw money at so it survives. Some future owner may thank me for it, or consider me a sucker.

The only modifications I have made are to affix the black-and-gold hood ornament and eagle logo trunk lock cover that were not available in this model year. In my mind, these changes make the car more Imperial, not less. Even with all its flaws, three our four times a week some stranger walks up to me and says "Nice car." For me, that is reward enough.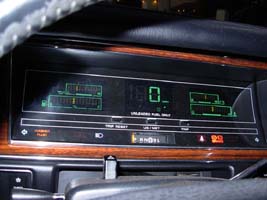 In about a year and a half of regular use I put 50,000 miles on the car. Driving northbound on I-80 just outside Fairfield, Calif., on August 25, 2006, I rolled it over from 199,999 miles to 0. That's right, 0. I almost spluttered spit all over my freshly detailed dashboard. The display does not count to 200,000. Instead, you get a little stylized daisy petal asterisk thingy next to the odometer readout that symbolizes 200,000. So the accompanying photo shows my Imperial reading 0 miles and a dot.
(Kids, the photo was taken while sitting on the side of the road. Do not attempt to photograph your dashboard at freeway speed under pressure to capture that one good shot for posterity before the odometer reads 1.)
The next day we had a club event with a cruise and a barbeque at the home of Ken and Debbie Lange. The Imperialists attending agreed to hold up my homemade sign and 99-cent-store tablecloth banners for a group photo celebrating my car's having achieved a truly Imperial milestone.
I wonder if you get a double asterisk for 400,000 miles? Check with me in about 7 years.
---
---