Thought I'd share my experience with my first Lowell Howe Yard Prowl. My host was Kenyon Wills and his beautiful girlfriend Liz in San Lorenzo. I arrived on Friday, October 14th and had a hearty burrito at Los Gallos Mexican Taqueria. Later, we visited GoKart Racer in Burlingame. Lesson learned: no burritos before racing!

Later that evening, we went into San Francisco and ate dinner at the Equinox Restaurant. This is the city's only revolving rooftop restaurant. It offers a spectacular view of the skyline and bay. This experience was not to be missed. The Bay Bridge really sparkles at night.

We capped the night off at Mitchell's Ice Cream on San Jose Avenue. They've been in business since the 1950's and their mix of ice cream flavors will boggle the mind! The locals packed the place in and waited for exotic flavors such as peach, cantaloupe, avocado, Mexican chocolate, passion fruit and "ube" (still trying to figure out what that was!). I got a chocolate-dipped "Grasshopper" -- hold the legs. That's mint ice cream with chunks chocolate and cookies. Ice cream doesn't get much better than this!

Saturday
Bright and early Saturday morning, we drove out to Doc Bullock's place southwest of San Jose. This is an incredible place. I'll be working to get Doc's complete story on the website soon. But, the summary is that ol' Doc had over 100 autos, the majority 64-66 Imperial four-doors (Crowns and LeBarons). In 1989, he had a dispute with the city (not sure of the details) and dismantled all but a handful of these Engle beauties and stacked the parts in the stables on the property.

It's an incredible sight to rows of 413 and 440 engines sitting side-by-side just where they where laid on that day 16 years ago. Climbing through the stables, power window motors, alternators, starters, evaporators, radiators, and instrument clusters are stacked like cord-wood ready for needy Imperials. It's a bit surreal. Laying on a table was a 5-lb coffee can full of Imperial emblems waiting for their turn to be re-mounted.

There were radios of every kind, even rare AM-FM units. Again, they were stacked in corners, on shelves. Doc even saved leather interior sets, weather stripping and dash pads. Radiator shrouds, speedo and auto-pilot cables hung from the rafters like some kind of automotive stalactites.

Being a bug-eye fan (61-63 Imperials), I was especially impressed with the number of head-lamp pods in the stables. There must have been enough to equip at least a dozen cars! Also found several instrument clusters and washer bags for these earlier cars.

Doc's previous daily driver is an immaculate dark green'68 LeBaron with the license plate MOPAR MD. All it needs is a good washing and it looks ready for the Yard Prowl. Stashed inside one of the stables is a white '66 Crown convertible looking like it had just rolled off the assembly line. It still wears its original triple-white wall tires and the hubcaps are in the trunk. There was also a tan '65 LeBaron sitting near the stables. No longer pristine, it still sports its unique black and white interior.

Later in the day, Henry Hopkins and Richard Palmer invited us out to their house near the city. Henry and Richard are retired and devote their time to some of the most awesome Imperials on the planet. You might remember seeing Henry's '60 Dusk Mauve Convertible gracing the cover of the July issue of Hemmings Motor News. That photo shoot (and the pictures on our site) do not do this car justice!

But, that's not all. Richard just recently sold his '59 convertible to a party in Sweden. But, it was still in the back of their garage awaiting pickup. It, too, was a wonderful example of Exner's handiwork. Just to rub it in, Richard showed us his project waiting in the wings: a '61 Crown convertible.

Bay Bridge by Night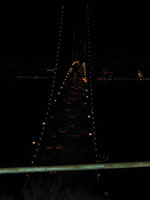 Their tastes are not limited to just Imperials. The Imperials shared garage space with a black '59 Chrysler 300F hardtop, a white '59 300F convertible, a white '57 T-Bird, a '41 LaSalle convertible and a '51 Chrysler New Yorker Scotsman convertible. What a collection! And that's just in storage outside. There's also a working garage with other cars that I just barely had time to see! Maybe we'll get them to tell us about this impressive collection sometime!

That evening we headed back to San Francisco to Treasure Island to see the Bay Bridge at night. Another spectacular sight!

Sunday
Sunday morning was the day of the big event. I arrived at Kenyon's at 9am. Already several Imperialists had shown up and were ready for the morning run. But, not before we had a chance to tour Kenyon's collection. His '60 was sitting under the carport with a large spider taking residence. It was sitting next to his current project (and bane of existence), an interesting mint green '62 Custom four-door. At the curb was his wonderful white '64 LeBaron, yellow '73 LeBaron, and his green '70 LeBaron.
| | | |
| --- | --- | --- |
| Can you can see the home of Kenyon's pet spider? | The line-up for the cruise. | Henry's '60 Crown Convertible |
| (left-to-right) Henry, Richard, Kenyon, and Pauline | Debbie, Juaquin, Ken, Liz, and Henry | Annette, David, Debbie, and Juaquin |
Henry and Richard brought their wonderful '60 convertible. Juaquin brought his newly acquired '67 convertible. Ken and his wife Debbie had their '67 Crown four-door. David Whitney and his wife Annette brought arrived with Pauline in Pauline's beautiful '72 LeBaron. In the spirit of "age before beauty", we lined up for our 60 mile trip to Lowell's with Henry and Richard in the lead. Kenyon and I in his '64 LeBaron
| | | |
| --- | --- | --- |
| Kenyon's '73 LeBaron | Ken and Debbie's '67 Crown | Kenyon's '64 LeBaron |
| Juaquin's '67 Crown Convertible | Pauline's '72 LeBaron | Kenyon's '70 LeBaron |
Portending things to come, Henry's convertible decided that it didn't want to start. Juaquin, Richard and Ken came to the rescue to get this beauty breathing again.
Near Livermore, in the Altamont Pass, is a wind farm of some 4,500 windmills. Erected some 20 years ago, it has generated quite a bit of controversy over bird kills in the area. Litigation has left a significant number of these rotors stilled. However, a number continue to produce clean energy for Californians.

Ken, Richard & Juaquin to the rescue

Windmills in the Altamont Pass
At the bottom of the pass, Juaquin's '67 decided to cough up some rust and clog the fuel filter. Ken's '67 and Pauline's '72 pulled over with him to clear it up. Kenyon told me he had offered Juaquin a clean fuel tank but felt he could fix the problem without resorting to replacement. He was wrong!
The filter was removed, blown into to remove sediment, and reinstalled. We proceeded and made it over onto I-5 where it clogged again. About this time, the oil-pressure sending unit on Pauline's car cracked and sprayed a small jet of oil onto the exhaust manifold, making a giant cloud of smoke and a foul smell.
We ended up piling everyone into the remaining cars with the plan that we'd get a part at Lowell's and install it on the return trip when the engine had cooled and it was convenient to do so.
Everyone arrived and we proceeded to have lunch, take a look around and Kenyon then invited everyone over to the next-door neighbor's place to see the Kenworth 50 log-stacker. The thing is a giant forklift that has a grapple/claw on the front that can pick up a box car. Used in sawmills for stacking logs. The neighbor traded something for it, and it's most curious as the area is flat as a board agricultural area that has: NO TREES
After a day well spent meeting the central valley folks and the Oregonians, we left the remnants of the 5-foot sub sandwich with Lowell so that he could part it out and got back on the road.
Funny thing was that the other three cars in our caravan left at staggered times, and this is where things started to take a turn for the bizarre.
We drove out to Pauline's car where Ken, his wife, and Pauline were waiting to meet the Juaquin's red convertible containing Kenyon's girlfriend, Juaquin, David, and his wife.
Apparently, we blew right by them on the way to Pauline's car. They ran out of gas and coasted into the gas station. If you know I-5, it is a long strip of highway that has few off ramps and even fewer facilities.
The good news was that the car coasted right into the gas station, had to stop short for the car that was pumping, and then just needed a push to get to the hose. The bad news was that emptying the tank coated the intake of the fuel line with rusty sludge, and when the car was restarted it died at in the middle of the inclined on-ramp due to fuel starvation.
We drove back down and pulled up to find Juaquin under the car and engaged in some sort of therapeutic interaction with the fuel line trying to blow the rust out of the clogged pickup sock.
Whatever he did worked and the car started up. It was at this time that Kenyon's across-the-street neighbors pulled up and said hello - they were returning from Disneyland and saw the imperial/knew that we were out today, and just had to stop.
After conversation we all hopped in our cars and parted ways.
We had taken the broken part off of the 1972 and compared it with the replacement part that they had gotten at NAPA before leaving Patterson. It was the WRONG PART, and as NAPA was closed, it was decided that the convertible would go back into Patterson and get a threaded plug for the leaking oil sending unit hole.
Great. Fine. Took awhile and Kenyon, Liz, and I all rejoined Ken, Debbie, and Pauline. We all climbed into his 1967, left the engine/AC on and had a nice chat while waiting. Another surreal moment occurred as Debbie surfed the Internet on her Laptop checking into the Asia currency futures in the middle of nowhere.
Once Juaquin showed up, Pauline's car was rapidly fixed and we were on our way.
What I was unaware of was that the red convertible had made a stop at Starbucks. Juaquin has diabetes and had been out working on his car in the sun and it had been several hours since lunch.
We drove back over the Altamont pass with its windmills and I had to wait at the top of the hill for everyone else, who was following Juaquin. Juaquin was driving slowly and seemed to be drifting in his lane a bit. Liz was with him. We didn't notice it but, in hindsight, we now know that she wasn't having as much fun and beaming like she had been on the way out. I figured that she was just tired at that point.
| | | |
| --- | --- | --- |
| At this point, Juaquin was getting pretty good at sucking rust from his fuel filter. | Pauline's oil-soaked engine compartment. | Our little Imperial-Meet on the side of I-5. |
We were to meet at her family business on the way to my place, where the other two cars would continue on to their destinations. We lost Juaquin and Liz in our rear-view mirror but figured that they'd catch right up. This is not what happened.

We went to her shop and waited. got miffed that she hadn't listened well and figured that she had taken Juaquin over to her house to show him a car that she has for sale. Kenyon and I got back in the car and were pulling out of the office park when Liz showed up driving Joaquin's car with him in the passenger seat.

Strange - most guys don't pass the wheel of their car off on a run....

We U-turned and followed them back and parked. Liz got out and bee-lined to Kenyon and said that she was really worried about Juaquin. At this point, he had gotten out of the car and was busy inspecting the 1960 Pontiac that he had been so interested in seeing after hearing about it. We looked over her shoulder at him and he was reclined across the front seat on his elbow and holding his head in a really unusual way. We walked over to the car and he said "W O W" about the busted dome light several times. Liz, Kenyon and I all started to get worried. Juaquin is a diabetic and it was just sinking in that he was likely in a diabetic shock.

We dialed 911 and the ambulance/firetruck/police showed up. He got a dose of sugar from them and a baloney sandwich from the refrigerator of the shop and came back after about 10 minutes.

He said that when he was at about the bottom that he had been sitting on the front seat of the Catalina and that the instrument cluster had talked to him and told him that they (the gauges) were all OK.

After all of this I came to find out that his eyes had been rolling back in their sockets and that he'd been drifting all over the freeway. Liz is an RN and was alone in the car to handle this with him. They almost sideswiped a big-rig, missed their exit because Juaquin was almost unconscious, and then when they did leave the freeway, blew through 3 lights. Liz yelled at him, got his attention, and hollered that she had to pee. That got them into a gas station and she got out and managed to get him out of the driver's seat. They then drove to meet us at the shop.

Long story short is that if she hadn't been in the car, he might not be alive. I really got the creeps because I was unaware that he had no seatbelts in the car, and Liz spent 15 minutes trying to figure out what she was going to do if he did pass-out and she got ejected.

I'm sure Kenyon will be inspecting fellow members cars more closely in the future.

Anyway, that was what happened on our branch of the trip.

I have to put in a plug for Pauline's 1972. I think that car looked really super out on the road, and that the designers achieved what the low-rider guys want in a car, with the mass of the vehicle seemingly lower and the sleek lines of the car making it look really smooth and somehow menacing.