Our Team of Dedicated OIC Volunteers
---
Imperial Home Page -> Mailing List & Club -> Support Staff
---
| | | |
| --- | --- | --- |
| | Do you have Imperial information, trivia, or pictures to share with us? Please contact us here, or scroll down to see a list of volunteers for specific year Imperials. Thanks! | |
---
The Man Who Thought Up the IML:
Tony Lindsay is the Ultimate Volunteer, the one who had the vision to start the mailing list and the idea to put it all up on the web for others to use and enjoy! And when it got to big for one person to handle, he invited us all in to help with his dream. Although many of us on this list have never personally met him, we consider him "family" and we are forever grateful for all he has done in pioneering the Imperial Mailing List and all of it's subsidiaries. If not for his love of these fine automobiles coupled with his dedication, hard work and unselfishness we would have never all got together and become a part of this great club. We have obtained valuable history, found remedies for our problems, obtained obsolete parts, bought and sold our cars, attended car shows but most importantly have found friendship and relationships that will last a lifetime, just because of him! We wanted to find some way to say "Thanks" that would be meaningful, different and perpetual.
So right here and now we would like to honor Tony as the Patron Saint of all things Imperial and set up a permanent Shrine that will honor him forever for all he has done to preserve the Imperial memories. Congratulations and Thank You Tony, from all of us!!
and here he is, Our Patron Saint, TONY LINDSAY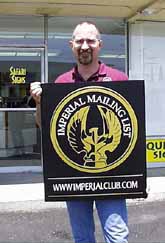 ---
Then we have our List Moderators who make sure the Imperial mailing-list runs smoothly! If you are having a problem with the mailing list, please contact us If you have submissions or would like to join us in this labor of love, please contact us

This club would never have grown and improved over the years without a crack team of superb volunteers! Below is a list of volunteers for specific years of Imperials or subject areas. Please contact them directly with information or submissions regarding these specific years or subjects!

NOTE: We would LOVE to add a page of pictures or information to the Imperial Website focusing on your Imperial. Please contact us if you are interested!
---
Volunteer Webmonsters:
Kenyon W.
Elijah S.
Jeff I.
Mark E.
Mark E.
Gary K.
Donn R.
Mike O.
Mike H.
Adam R.
Russ D.
| | |
| --- | --- |
| Imperial Registry and Imperial Highway | |
If you would like to volunteer, please click here.
View the standards for the pages on our website
---
This page last updated January 2021. Send us your feedback, and come join the Imperial Mailing List - Online Car Club
---