Driveshaft support cushion replacement
---
Imperial Homepage -> Repair -> Rear Axle -> Driveshaft support cushion replacement
---
From Ernie Stepney:
The following instructions describe one solution to the weak support used on many X frame Imperials. The materials list is very short. 1 Chevy S10 2 wheel drive long box pickup driveshaft support bearing assy., I obtained mine used from a wrecker. Check out the completed assemblies below.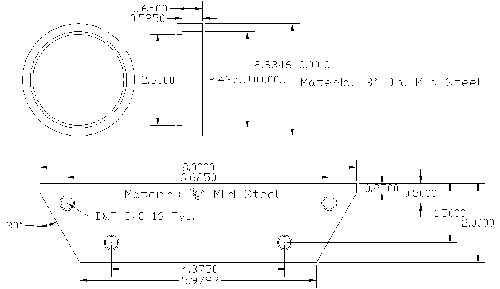 The first step is to have the parts shown in the attached drawing made up at a local machine shop. Next disassemble and modify the chevy support bearing assembly.
Remove bottom plate and remove cushion from bracket.
Remove bearing from cushion and carefully remove the sheet metal housing from the bearing.(you will reuse this part.)
3) Enlarge the hole in one of the housing pieces by 1/4" diameter (I used tin snips)
Disassemble driveshaft.
After removing from the car mark the front and rear halves to allow correct reassembly.
Carefully bend back the lock tabs which hold the slip yoke retaining ring and unscrew the ring.
Separate the driveshaft halves and press the old support assembly off the front shaft. Discard the shield plates.
At this point you can either press your original bearing out of the support or get a new one from NAPA, about $25.
Press the bearing into the adapter ring.
Install the ring into the sheet metal housings with the enlarged hole on the side with the bearing flush, aligning the locating ears.
Put the housing into the cushion, cushion into the support bracket and install the bottom plate.
Assemble the bearing assembly to the shaft with the enlarged hole to the rear and reassemble the driveshaft halves. Bend all the lock tabs in to clear the housing.
Test fit the mounting plate to the frame mounting, you may have to bevel the edge to clear welds.
Bolt the plate to the support bearing with the narrow set of holes foreward and install the driveshaft into the car.
Notes:
Most of the press operations can be done with a vise.
Inspect your universal joints while it is apart, now is a good time to replace them if needed.
Use 3/8 x 1" minumum grade 5 fasteners with lock and flat washers and torque to 30 Ft lbs.
---
This page was last updated on 11 January, 2004. Send us your feedback, and come join the Imperial Mailing List - Online Car Club
---