Roger Morrow's 1930 Chrysler Imperial Roadster
---
Imperial Home Page -> Imperials by Year -> 1930 -> Roger Morrow
---
Please click on the small image to see a larger size and AGAIN for an even larger size...to get lots of detailed, close-up shots of this magnificent Imperial.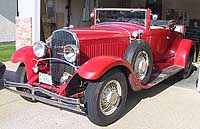 I purchased my 1930 Imperial roadster during the winter of 2001. The car has been stored since 1965 after it was purchased from a couple in a very small town in Saskatchewan. When I got it, the car hadn't been run for probably 15- 20 years. Once the gas tank was cleaned, new plugs and wires, she didn't run too bad. The gas tank, radiator, etc. needed some work, but by and large, the car is in excellent condition and operable.

It has a flat 6 engine and at the time of purchase, had 85,000 miles showing on the odometer. I was able to put about 500 miles on my "new" Roadster before I blew one of the babbits in September. As a result, the motor has now been pulled and sent out for repairs. Now, it looks like she's off the road until at least the spring of 2002 when, hopefully, the motor will have been rebuilt.

My Roadster came with two chrome wheel covers, but unfortunately they are not seen in the pictures because the tires I purchased are too wide for them to fit.

Everything else on this car would appear to be 100% original - as best as I can tell, at least. The only exception that I have found are the seats and the door panels.

The Imperial badge (shown at the right) is located on the rear gas tank cover / shield in the middle rear of the car.

In these two pictures you can see how the Roadster's rumble seat operates. When getting into the seat, the passenger will open the door and lift the deck lid. When fine motoring ensues, the deck lid will come down and the rear compartment is quite comfortable and stylish to ride in.

A trunk rack and "trunk" came with the '30 as well. Incredibly, the trunk is in excellent condition!

Here are a few pictures of Roger's current project...rebuilding his flathead. Here are a number of detailed pictures showing his engine in various states of removal and preparation for rebuilding. Good luck, Roger, with your engine repair and we hope to hear back from you and your wonderful 1930 Imperial Roadster soon!!!
---
This page was last updated on November 3, 2001. Send us your feedback, and come join the Imperial Mailing List - Online Car Club
---