Story #1 - 1956 Convertible rescued in Wisconsin, USA
June 2007 - Below is all the information we have on this Imperial story. The original article ran in Old Cars Weekly in 2007. If you have any further information, please follow the "feedback" link at the bottom of the page, we'd all like to know what has happened in the interim.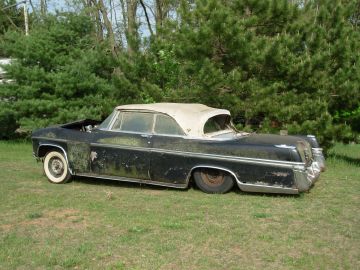 1956 Imperial Convertible Comes Out of Hiding - By Angelo Van Bogart
Tulsa's 1957 Plymouth Belvedere isn't the only historic Chrysler Corp. product to rise this summer. On May 19, the one-of-three 1956 Imperial convertibles hiding in the woods just a few miles away from the Old Cars Weekly office was removed from its 30-year resting place on the side of a tree-filled hill.

The Imperial was first featured in the March 3 and June 9, 2005, issues of Old Cars Weekly, and its existence captured the attention of Chrysler Corp. historians everywhere. Inspired by the buzz his car was receiving, Bob, the Imperial's owner, decided to rescue the car from its less-than-ideal storage conditions in Amherst, Wis., and trust it to restorer Adam Harder.

Old Cars Weekly staffers Matt Gergeni and Angelo Van Bogart assisted Harder and Bob with the car's retrieval. It took nearly eight hours to free the car from the earth it had become a part of, make its wheels spin again, mount fresh tires and navigate the car through a maze of trees to the top of a hill. Once there, the Imperial convertible was loaded on an enclosed trailer headed towards Milwaukee.

Bob and Harder said their first task to bringing the rare Imperial convertible back to life was to assemble Chrysler New Yorker and Imperial parts cars. The pair estimated it would take a year to assess the car's condition and begin its restoration. For now, the car will be safely stored indoors and out of the Wisconsin weather.

While saving his car, Bob said the car was acquired from his father-in-law following an early 1970's car accident. When Bob's father-in-law received an estimate for the repairs, he told Bob he was going to send the car to a salvage yard. Remembering how beautiful the Imperial once was, Bob told him he'd take the car. The Imperial was initially stored in a building from which Bob operated a business, but upon selling the building, Bob lost his indoor storage. That's when he asked his friends, Roger and Merna Dudley, to store the car for a couple of years on their Amherst, Wis., property. A couple of years quickly turned into 30. Bob also said the car was frequently used in parades around the Milwaukee area before it lost its original wire wheels and was damaged. If you captured the car on film, we'd love to see photos.

For progress on the restoration, stay tuned to Old Cars Weekly for updates.

**************************************************
Story #2 - 1956 Convertible offered on Hemmings in 2017
This 1956 convertible was offered for sale on Hemmings website in January of 2017.
Here's what the seller had to say about this unusual automobile :
$40,000
1956 Chrysler Imperial Convertible
Location: Quincy, Massachusetts, 02171
Mileage: 99999
Transmission: Auto
Condition: Project
Exterior: Green
Interior: Green and White
Sellerís Description:
This is a very rare car, 1 of 3 ever built. This car needs total restoration. I have owned this car for 16 years and have been unable to restore it. This car was built for E.C. Quinn the president of Chrysler Division. Its original paint was a beautiful emerald green, code 99.The interior is a woven green, leather inserts, totally custom, and totally custom door panels. I have seen in person the light blue '56 and that car does not have this unique interior. The (3) 1956 Imperial convertibles were built new from New Yorker convertibles. I have 4 parts cars that come with this package. A '56 Windsor coupe, '56 Imperial coupe, 4dr hdtp, and 4dr sedan. This car needs total restoration, it's rusty, and was when I purchased it. A very rare piece of Chrysler history. A rare opportunity to own this car that needs a new owner to have it restored to it's former glory.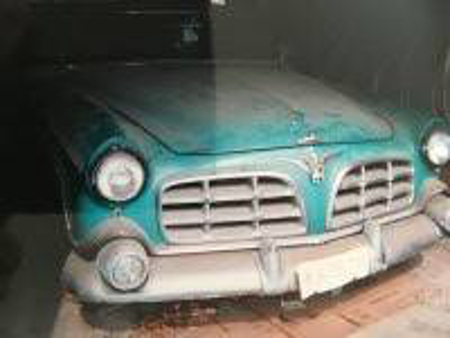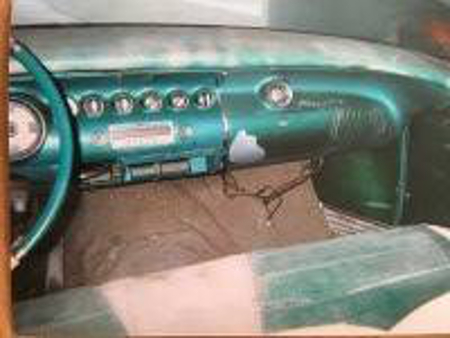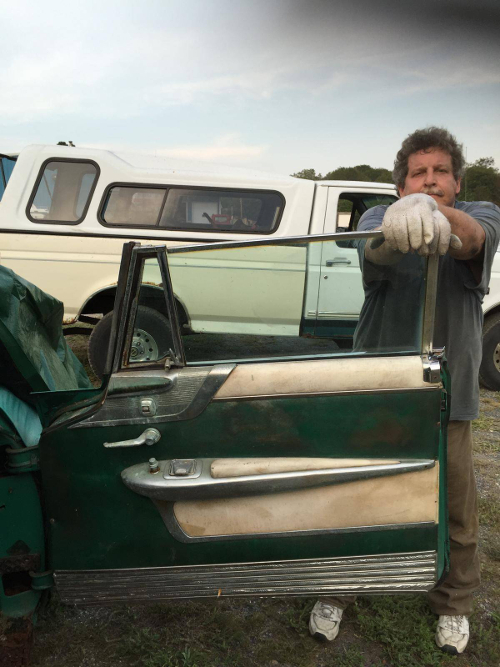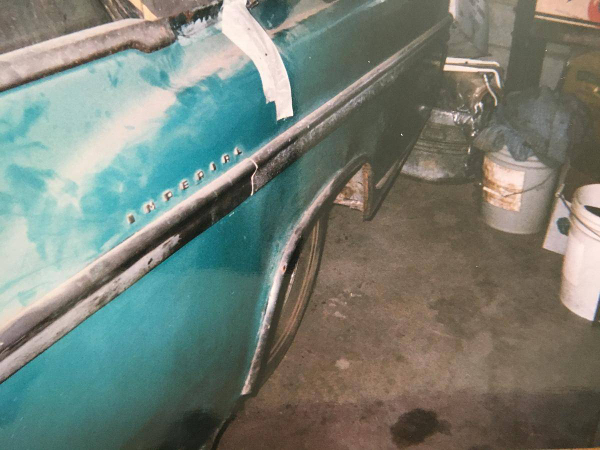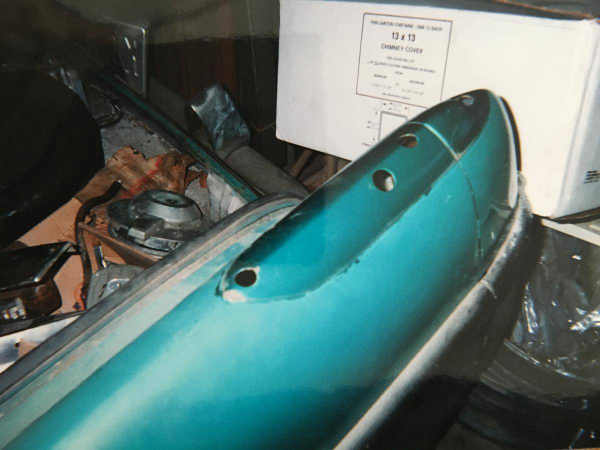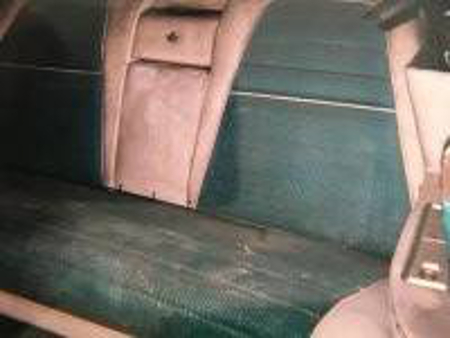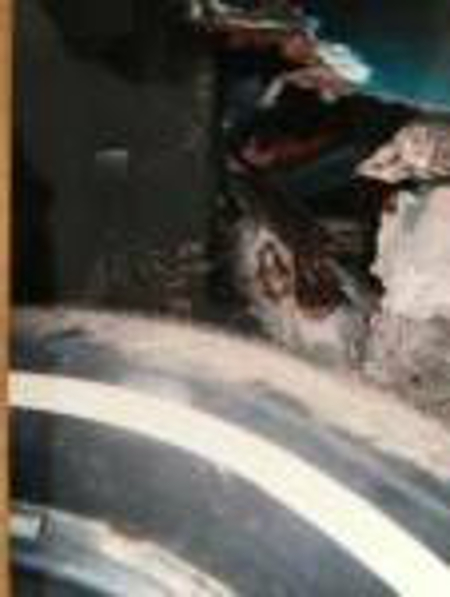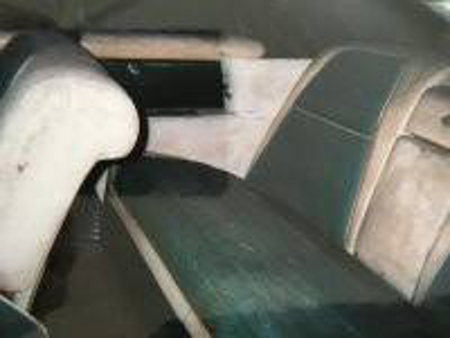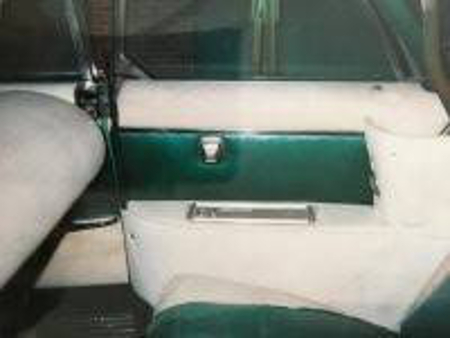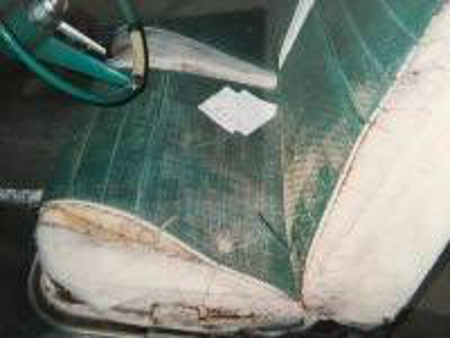 **************************************************
1956 Convertible #3 (?)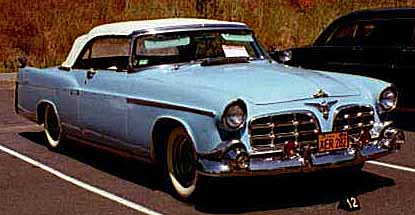 Member's Comments:
According to archives, there are three documented 1956 Convertibles made from NY'ers.
If you have any current information on any of these rare 1956 Convertibles, please use the "feedback" link below to contact us and let us know any updates to these stories.