The Saga of the Blue Baron---a 1956 Imperial Southampton 4-dr Hardtop
May 17, 2008 I purchased the future Blue Baron (initially her name was the Pink Burrito) from a gentleman in San Diego. She had a lot of rust in the rockers, in the trunk, under the doors; in the usual places. But: no rust in the floor pan, and no rust on the frame. And, her Hemi engine started right up, and ran beautifully. Our best guess is that she had very few miles on a recent rebuild. She had a very nice dash, good steering wheel, and an intact horn ring. She had a dealer-installed A/C system. She was pink, and I really wanted a different color scheme. So I went to the 1956 Chrysler color charts and chose Stardust Blue over Mediterranean Blue. My goal: a car that looks as original as possible but with significant engineering and convenience upgrades.
Click on photos to see larger versions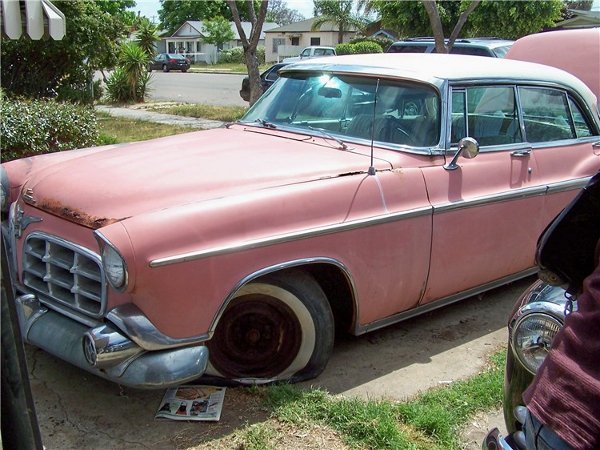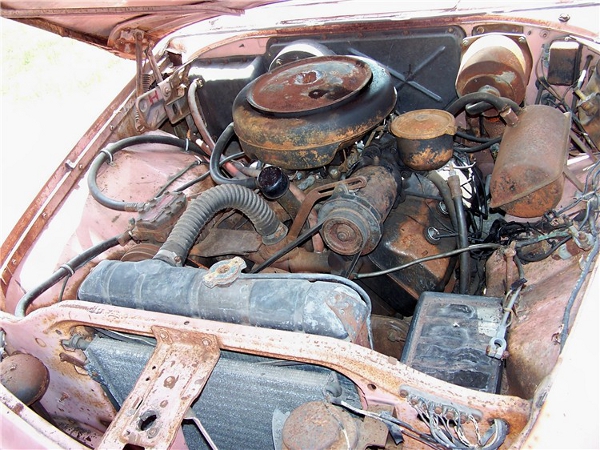 September 10, 2008. By now she has been disassembled, and the massive job of the body work has begun.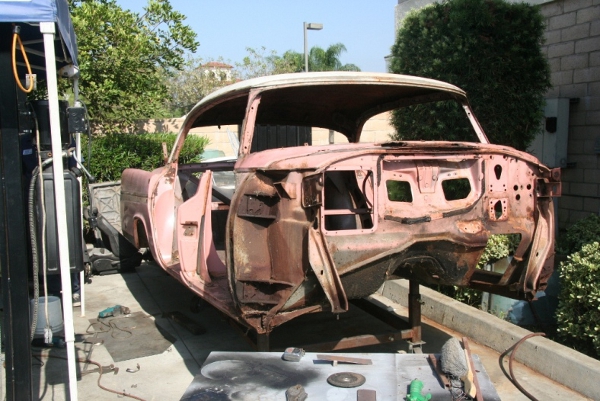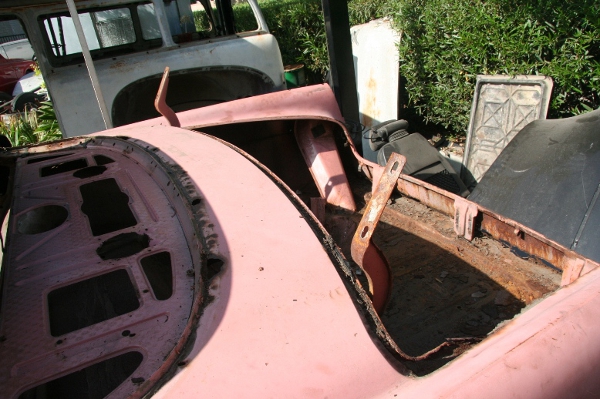 October 24, 2008. Her engine has been cleaned up and reconditioned (not rebuilt), and coupled with a rebuilt 3-spd Torqueflite tranny (she came from the factory with a 2-spd Powerflite). Her frame has been sand blasted and powder coated, and she has been fitted with AAJ disc brakes in the front a new Currie rear end with disc brakes in the rear.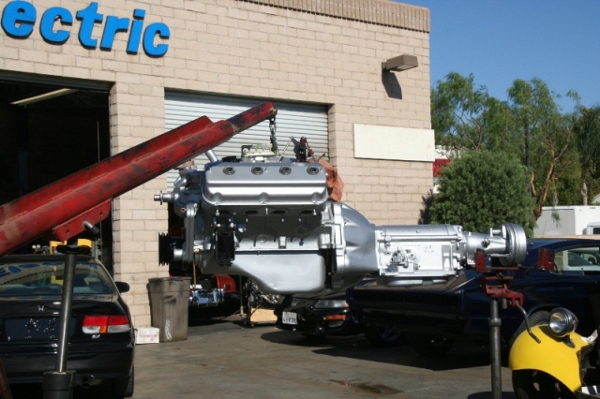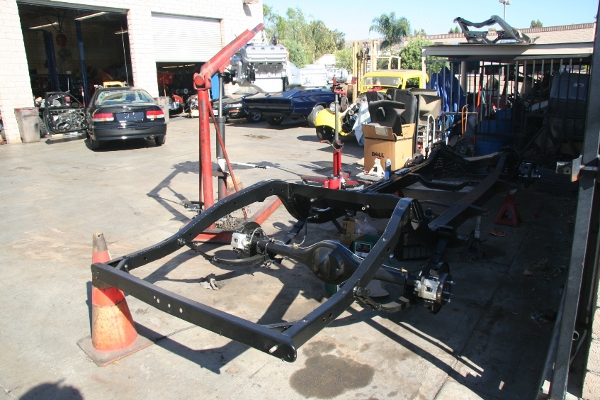 Nov 18, 2008, Feb 18, 2009, May 28, 2009, June 25, 2009, July 22, 2009----body work continues.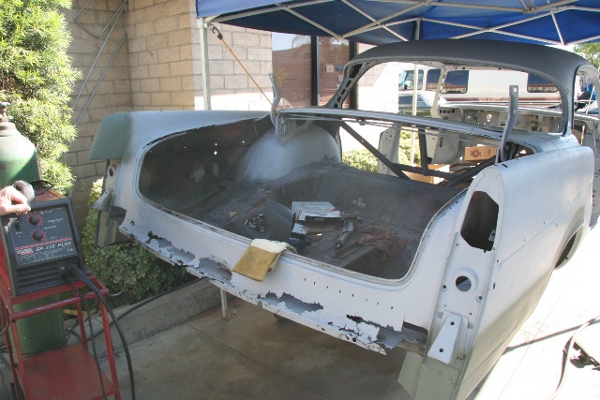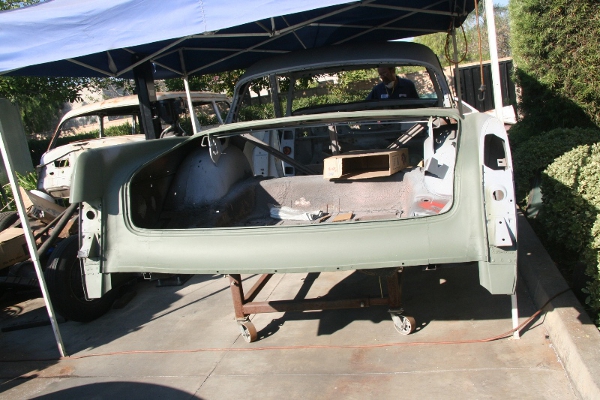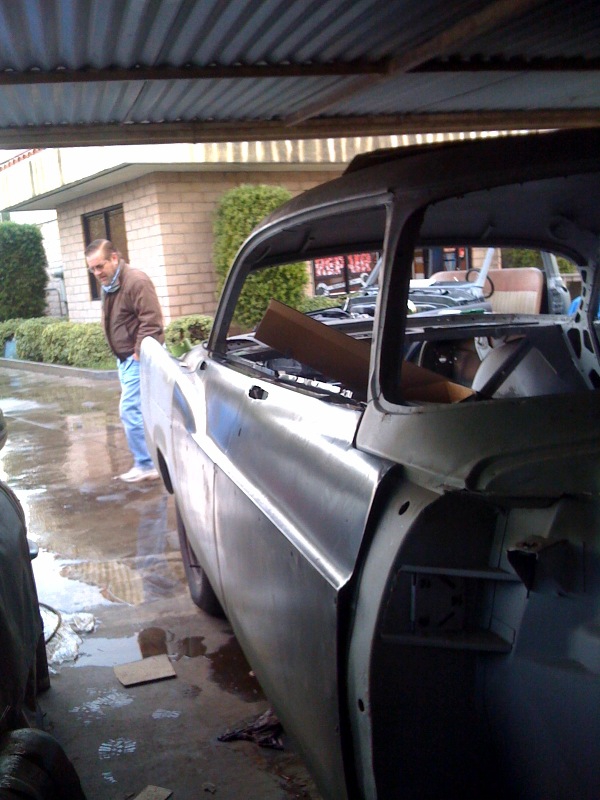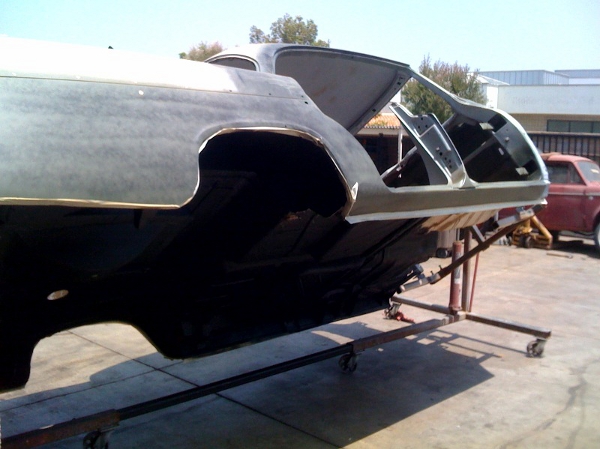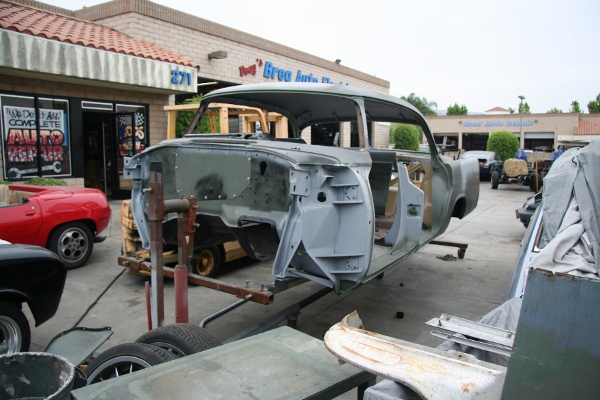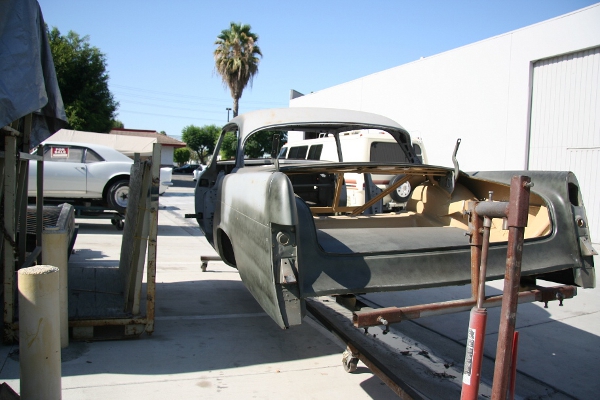 Nov 15, 2009 she receives her first coast of new paint. Stardust Blue over Mediterranean Blue.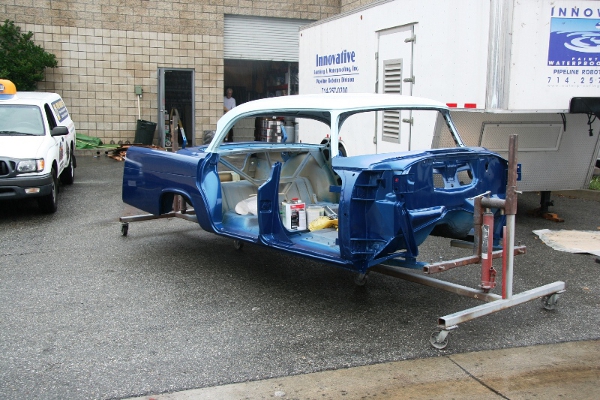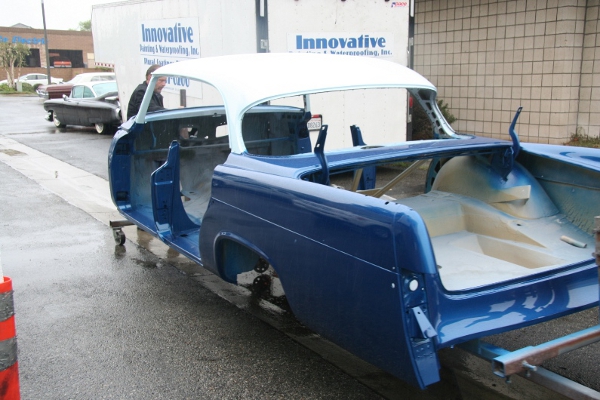 Nov 24, 2009. Work begins to reassemble the new Blue Baron.

Dec 12, 2009----June 23, 2010. Work continues on reassembling our blue beauty.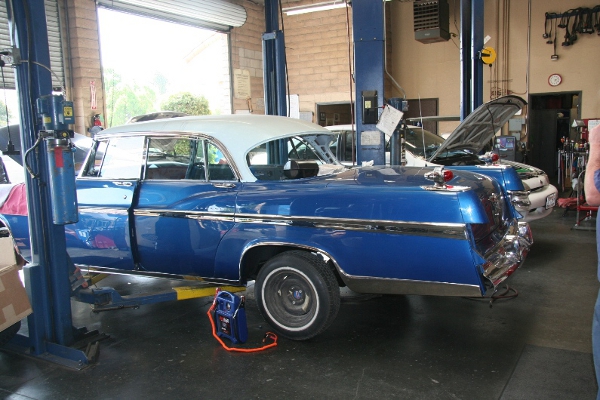 August 19, 2010. Another beauty, dressed in blue, comes to inspect the work on the Blue Baron.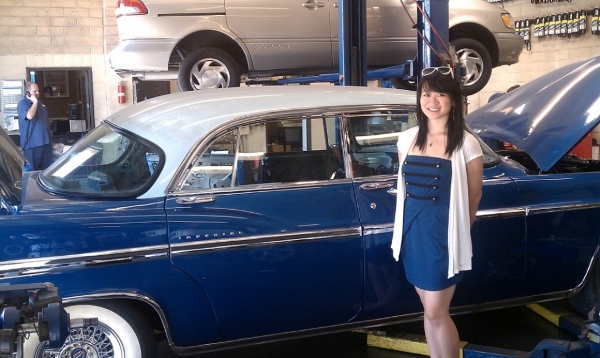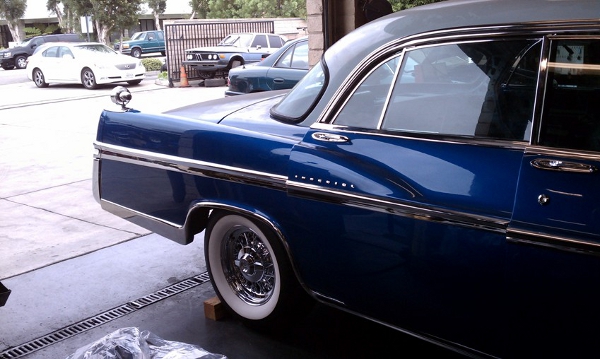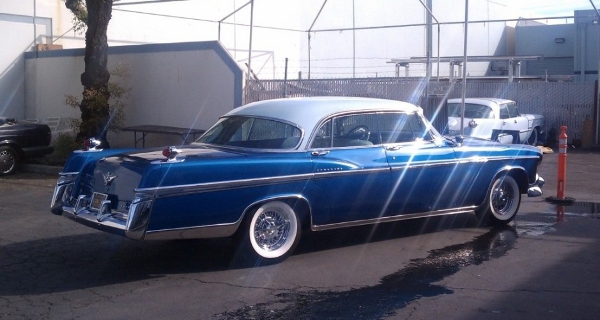 February 17, 2011. She's done! She's done! Frame-off restoration, all mechanical work new or rebuilt, 4-wheel disc brakes, modern 12v alternator, Pertronix ignition, new Sporster wire wheels, all new Diamond-back steel-belted radials with wide-whites, all new authentic leather upholstery with correct Imperial eagle logo fabric inserts, refurbished AM (and now FM) radio, all gauges refurbished and recalibrated, and, in the Kleenex box under the dash, a CD player with Bluetooth, iPod player and USB hook up, modern A/C compressor and components but retaining the factory original dash controls and rear shelf ducts, every piece of trim re-chromed or polished (stainless), all new emblems inside and out.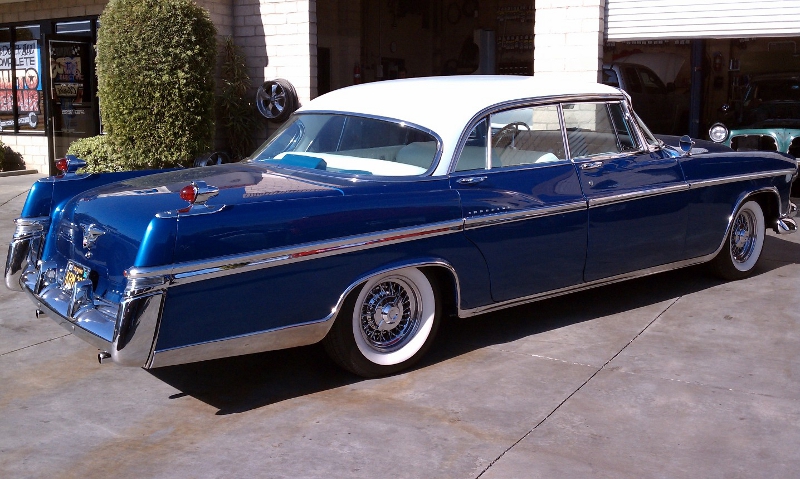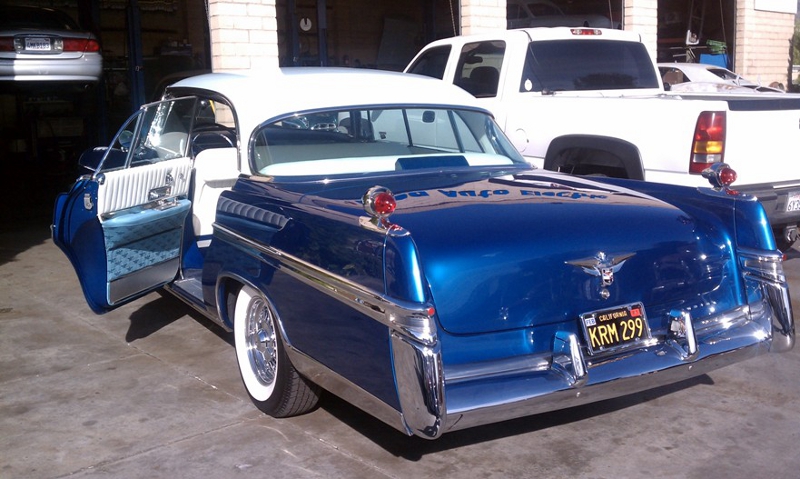 Special thanks to:

Brea Auto Electric- Doug, Mike, Danny and the whole team

Overby Transmission- Scott Overby

Dennis Crooks- (the steering wheel)

Orange Auto Upholstery- Sergio, Victor