1956 Chrysler Ghia Norseman
This was an IDEA CAR created by GHIA for Chrysler
The first SHOW-CAR GHIA built for Chrysler, the Norseman, was to have been exhibited as the "world's most automated car", at least as far as this was possible with the technology of the time (1956). It was designed by Billie Brownlie, the Exner group's stylist in charge of the project, and the practical problems involved in building it gave severe headaches to Sergio Coggiola, the capable head of Ghia's prototype shop. For example, the car had an overhung roof, i.e. it did not sit on the forward windscreen a-pillars but directly on the glass, discharging onto itany oscillations with the obvious risk of breakage. Curiously, it was exactly the same problem which Sergio Reggiani sculptor-designer, and Giannino Marzotto racing driver in a pin-stripe, had to tackle in their "egg" Ferrari in the 1951 Mille Miglia. There were also problems connected to housing the sophisticated opening and closing mechanisms for the electrically controlled sunshine roof in the car's thin roof panel. After fifteen months work and at a cost of around fifty million lire, the car was finally delivered to the forwarding agent. A month later it was the agent himself who broke the news that the car was lost for ever. Since the evening of July 26, 1956 it had been lying under seventy metres of water in the bay of New York, in the hold of the "Andrea Doria". Ghia's other dream cars were less unfortunate: the Flite-Wing and the Turboflite, the latter adopting many of the solutions used on the Norseman.
The GHIA Norseman sank on the SS Andrea Doria on the night of July 26, 1956,
The Italian ocean liner SS Andrea Doria was struck by the Swedish ship MS Stockholm in heavy fog off the coast of Nantucket, Massachusetts, USA and the Andrea Doria sank within minutes.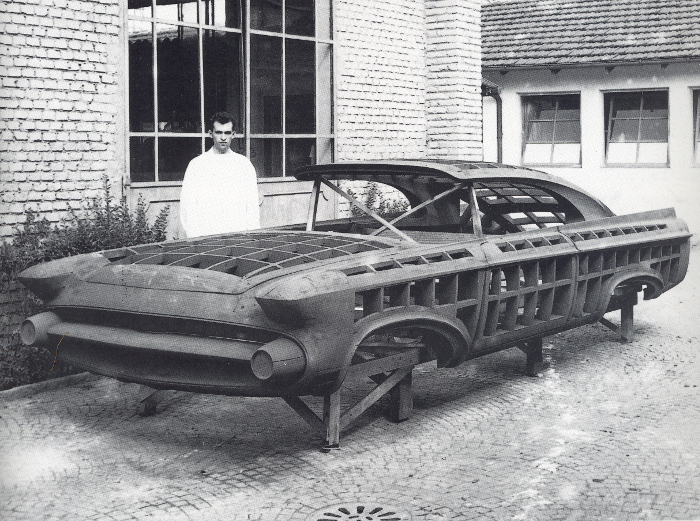 This was the wooden and clay "buck" created by GHIA. These bucks were used for full scale mock-ups, and also for forming the sheetmetal panels.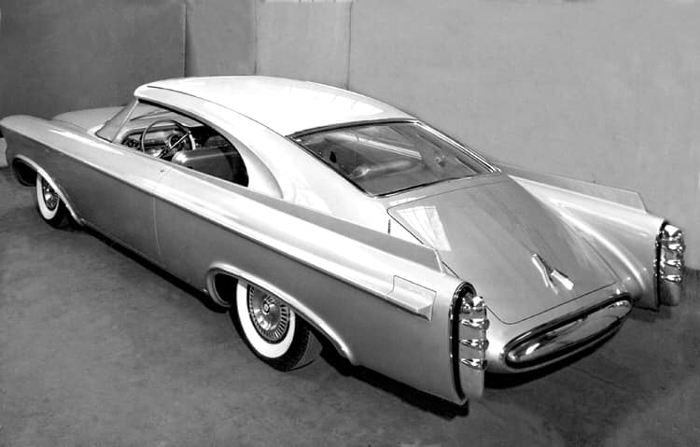 - Chrysler Press Release 7/26/1956 -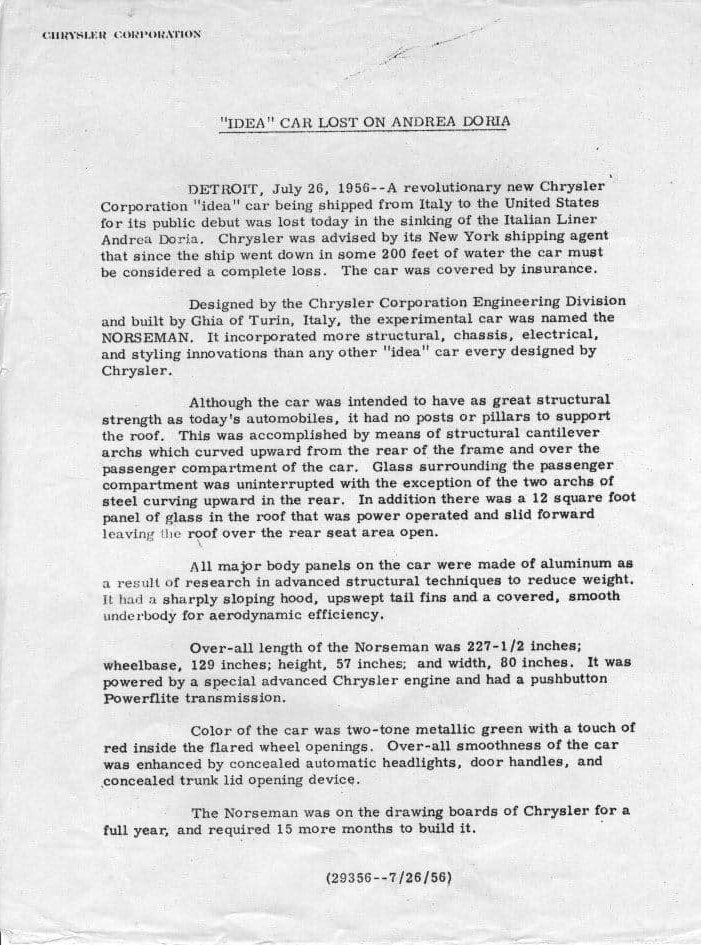 If you have any other information regarding the GHIA Norseman please write in to the "feedback" link below, and help us to update this story.