Colin Knight's 1957 Imperial Coupe
---
Imperial Home Page -> Imperials by Year -> 1957 -> Colin Knight
---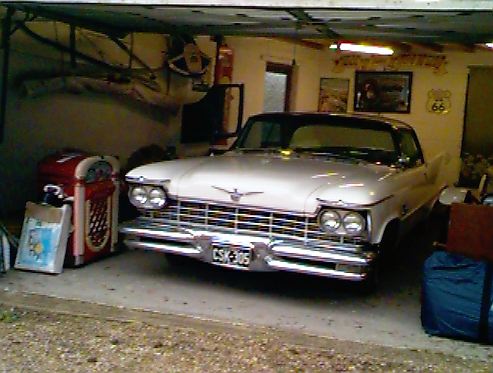 1957 2 door Hardtop (White-Blue Interior)
From: Colin Knight, United Kingdom
I have owned the car for 7 years-summer use only . Mileage is only approx. 70,000. I try and attend the bigger U.K. Rallies (when I'm not on shift) The car is in very good condition, it has been resprayed, it has its original interior, and runs on radial tyres now.
I spent two days trying to remove the two rear brake-drums, and that was only a year after i had already gotten them off the first time, unfortunately the first time i only used repair kit seals, which of course leaked, so I put on new cylinders the second time. but then i experienced the brake system locking up. Eventually I replaced the complete braking system, so the brakes are now good.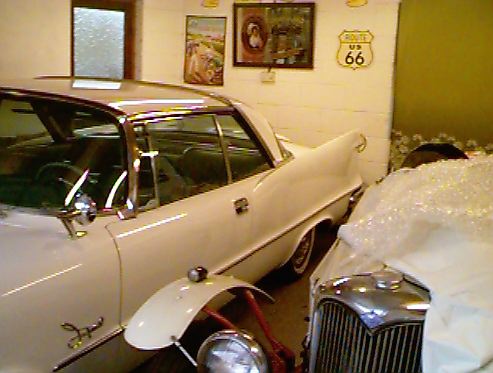 I have the original F.M. Self seek radio which is still in perfect working order.
As for rust prevention, I was lucky with my car being originally from the desert - it had no rust at all, but on inspection inside the sills (rockers to you) they were devoid of any paint, as were inside the rear wings, but rust free, they are now covered in wax-oil, so should stay good.
The only job i've got left to do now is get the mile-ometer to work. the speedo works fine,it does look an horrendous job to get the speedo out so i haven't attempted it yet.
If i can find some head-lining material i might do that this year , but its only slightly grubby--let's just enjoy!
Other cars I own:
1957 Austin A35
1947 2.5 litre Riley with special 2seater sports boat tail body
1937 Austin 10/4--I'm second owner of this car (30 years ownership now- undergoing nut and bolt rebuild)
1944 Royal Enfield motor cycle (owned now for 35 years!)

I would be pleased to hear from any similar like owners.
---
This page was last updated October 13, 2003. Send us your feedback, and come join the Imperial Mailing List - Online Car Club
---