George Sazdoff's 1957 Imperial Crown Southampton
---
Imperial Home Page -> Imperials by Year -> 1957 -> George Sazdoff
---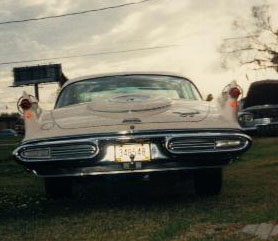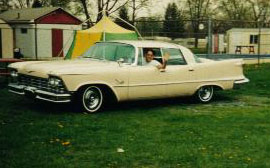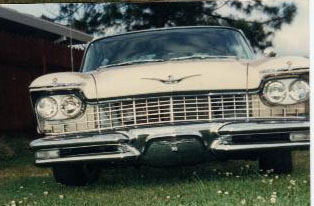 Hi everyone,

I just saw a movie called "Eve's Bayou" on TV. There was a
beautiful 1957-1959 Imperial in it. I loved that car!!! BTW, it was a
really good movie, so it's worth sitting through to see the Imperial.

Jon
NYBeing


Hi Jon (and list), That Pink 1957 Imperial you witnessed in the movie Eves
Bayou, is, I am proud to say, Mine. I live here in New Orleans, and the
filming was done within South Louisiana. It was a great experience!! Samuel
L Jackson drove my car in a few scenes. I really need to dust her off, put
in a fresh battery, and take her out. She has been sitting in my Mother's
garage for quite a while now. I am in need of a starter relay, and can't
seem to find one. A little history on the car: I bought her back in '83
from the original owner. She had 67,000 original miles on her and was titled
in the wife's name. The owners lived and purchased the car in CA, and later
moved to N.O. When the Gentleman's new lady friend saw me in total awe at
the car, I think she decided that I would make the perfect second owner. The
rest is history. This Imperial was actually advertised in the local paper!!

1957 Imperial Crown Southampton (Shell Pink)

I have some pictures of the '57 filed that I would be honored to
send to you for the website. I will try to find some (if I took any on the
set) that will show some of the scenery here in South Louisiana. If I
remember correctly however, I left the car with the vintage auto coordinator
during most if not all of the shooting segments. The shooting took place,
for the most part, on days that I had to work. Consequently, I don't think
I have any (on the set photos). This is a shame, because I took a lot of
pictures of my 32 Ford when it was used for a European Lee Jeans Commercial,
and I kick myself for not appointing a member of my family to do this for me
during the shooting of Eve's Bayou.
Here are some pictures of my Pride and Joy!!
---
This page was last updated August 28, 2001. Send us your feedback, and come join the Imperial Mailing List - Online Car Club
---