Joe & Nancy Still's 1961 Imperial Crown Four-Door Southampton
---
Imperial Home Page -> Imperials By Year -> 1961 -> Joe & Nancy Still
---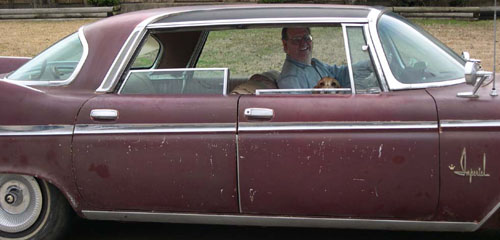 Joe and Nancy Still are members of the Imperial Mailing list. They are proud owners of a Malibu Tan 1961 Imperial Crown four-door Southampton. Right now, it sports a sort of russet red paint job that matches the dash and carpet. The upholstry is Malibu Tan. Sounds like a very interesting combination.
They bought the car on a tip from members of the list in Kennewick, Washington and she arrived here, in Dallas, on September 13, 2004; one week before Joe's birthday.
The restoration began with the brakes after putting her up on jack stands and removing the wheels.
We expect Joe and Nancy to share more about this car soon. We hope to to see more photos of the car and Joe's progress soon!
| | |
| --- | --- |
| Joe named this beautiful Imperial "Gertrude". Here, he's taking his Bassett Hound for a ride. | Joe is just starting to find all the idiosyncrasies on this Imperial. Notice the '62 hood ornament. The headlamp bulbs are stamped "T3"; apparently factory-only units. How about those "unique" fender-mounted turn signals? |
| Where did that rear-view mirror go? | There it is! Chrysler re-located the rear-view mirror from the dash to the windshield header in 1960. Someone must have liked it better on the dash! |
| These unique air vents indicate a Mark IV aftermarket Air Conditioner lies underneath. Mark IV's were very popular in the 50's and 60's. | The carburetor was Joe's latest project "victim" on Gertrude. |
more to come...
Having trouble with printouts coming out way too small, or pieces of a document printing acro ss sev eral page s?
Then go to our "How To Print Imperial Literature" page to learn how to print an item at the size you'd like.
---
This page was last updated 18 February, 2005. Send us your feedback, and come join the Imperial Mailing List - Online Car Club
---