Introduction
Hi! My name is Mika Jaakkola and I live in Europe. Exact location is Turku, Finland. This is going to be a long story. So I hope You guys in IML have big harddrive.
Let me tell a little bit about myself. I'm 25 -year old students in Turku Polytechnic. I will graduate as an Engineer of Internet Technology (So, if You have a job for me, please, let me know ;) ) after 4 months from now (I hope). I just got a new job from Turku's phone company (Auria). I live with my girlfriend and we have a (almost) 3 year old son. Well - that's enough from me, and now - - my favorite subject - - cars, and of course, Imperials.
For those who don't know about finnish vintage-car culture, I can explain this a little bit. When Imperials were new, there weren't many Imperials imported to Finland. I guess couple of 1959 -models, couple of 1961's, atleast 2 1966 Imperials. This may sound strange, but there were atleast two 1955 Crown Imperials Limousines in Finland as new, and these cars still exist. It has always been difficult to "ordinary people" to import own car from outside the country, because of high taxes we have to pay.
In 1984-85 (?) there were changes in legislation, and taxes decreased on older vehicles than 25 -years old. The has been more changes since, but that was the starting point, when people started to have more interest on old american automobiles. Since those years I believe 100-200 Imperials have been imported to Finland. Of course, volumes on more "popular" makes like Cadillac and Chevrolet are much more than on Imperials, but I really think that 100-200 cars is very good accomplishment, because these cars mainly were not for a daily use (Of course, most of those other makes were not either).
How about the part sources in Finland? Well, if you are looking for a bumper or a grille, only sources are mainly(few exceptions, of course) private people, who have parted out these cars. If You need mechanical parts that's easier. There are couple of companies in Turku, that are specialized in American car parts. In my opinion, it's more faster, easier, cheaper and You'll get better service if you buy the parts you need directly from US (or for example from Sweden). Of course, everybody don't know how or even cannot (or don't want to learn) use emails, credit cards etc etc.
I have never thought it as a problem, if You have to get your stuff from overseas. No. It's a brilliant way to meet fellow-enthusiasts from all over the World. I have bought parts for my 1957 Imperial from Sweden, France (thanks Philippe C.) and from US, and from Finland of course.
The First One
First Glance
In midsummers day in 1997 I was 17-years old. I had wanted an american made vintage car since I was about 13-years old. But then I had decided to GET one. It was pretty difficult, because my dad had his opinion that "they were waste of time and money". So I made something that I still haven't had enough guts to tell him. I bought one without his approval. I know that he would have been VERY angry if he'd known about it. Maybe he'd never spoken me again... ?? Well, I'm glad that he didn't found it out (I believe he will not read this ;) ).
I wasn't looking for particularly Imperial (Yes, I was silly back then ..), but then I noticed a local newspaper ad about 1964 Imperial Crown 4dHT for sale in Turku. The price was ok, I could afford it. I had been working a year or two by then and had enough money to buy a car. I called the seller and we decided to go check the car out.
First impression was that when I first so it in the parking lot I didn't even want to stop. It looked so AWFUL!! Side pipes, smaller rear wheels, non-shiny grey paint, right front fender crushed. Well, we decided to stop anyway. The seller came from a house nearby, told some information about the car to my friend father, who was "the car specialist" with us. I didn't pay much attention to the seller, only to the car itself. Well, it wasn't so convincing. . . But hey, the seller suggested a test drive. OK, we agreed of course.
When we cruised downtown with the car everybody, I mean EVERYBODY were stearing at us. I don't know was it because the car looked so horrible.. or because IT WAS SO BIG and still looked like there was LOT's OF MONEY MOVING! So that was it. I really was hooked with the car. The car changed owners a couple of days after.
Background
One fellow in Turku had bought the car from San Bernandino (CA) area in 1991. He actually bought 3 1964 Imperials at the same time. That 4dHT Crown, Crown Convertible and 1964 LeBaron for parts. Firstly he fixed up that 4dHT and used it as a daily driver in the early 90's. That 4dHT Crown was owned by Ian Lemming in CA area. The upholstery had been redone (tuck'n'roll -like), but the car ended up to a junk yard in San Bernandino, because it had been driven without oils in engine, so it was in need of work.
Work to be Done
So the car looked awful. But there was other smaller things to do before I could use it on the road. Engine and transmission had been rebuilt in the beginning of 90's. First things I had to do was fix up the hi-beams, brakes, exhaust pipe, some electrics so I could use it. The car was roadworthy at fall in 1997. After the winter things got a little bit out of control.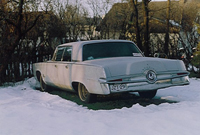 I wanted to get it painted, because the paint was so horrible. I disassembled almost the whole car (not engine or transmission, so it was drivable all the time). I didn't expect it would require so much work! You have to remember, this was my first car. The first winter went when I disassembled the car and 2 months when I removed all the old paint from it. I almost lost my mind with the work. It had so thick layer of that non-shiny grey paint!