Mike and Kerry's 1975 Imperial Station Wagon
---
Imperial Home Page -> Imperials by Year -> 1975 -> Mike and Kerry's Wagon
---
From Chris Hawkins:
Here is another mid 70's Imperial Station Wagon.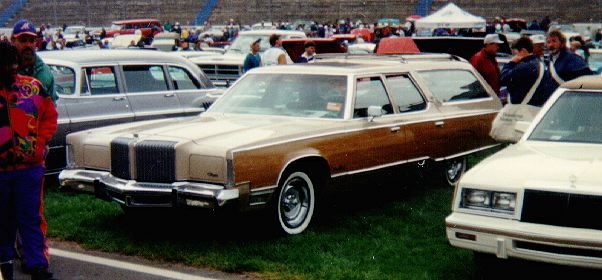 1975 Imperial wagon - owned by Mike Greene and Kerry Mena. A 1975 Imperial front clip was installed on a 1976 Chrysler Town & Country. The woodgrain on the sides of the car was reworked to accommodate the new fenders.

Buick Estate Wagon woodgrain was used because its color is lighter than the standard Chrysler and it harmonized nicely with the paint color. The interior is tobacco brown and the car is loaded up with options as an Imperial should be.
---
This page was last updated on Thu, Apr 16, 1998. Send us your feedback, and come join the Imperial Mailing List - Online Car Club
---