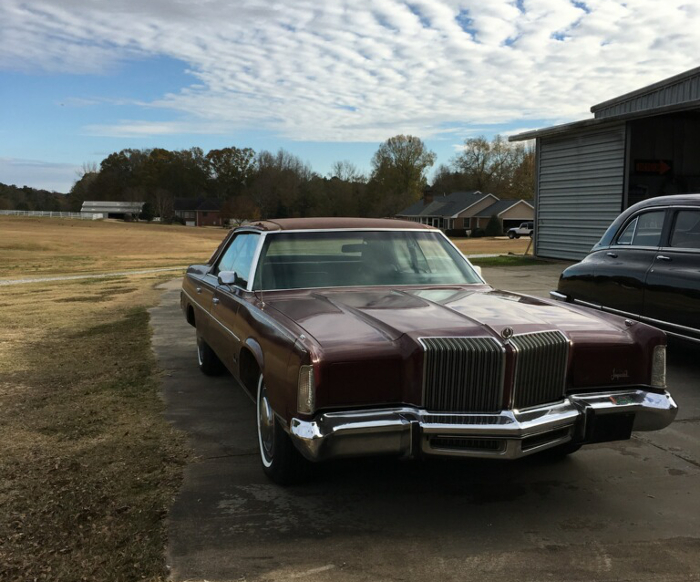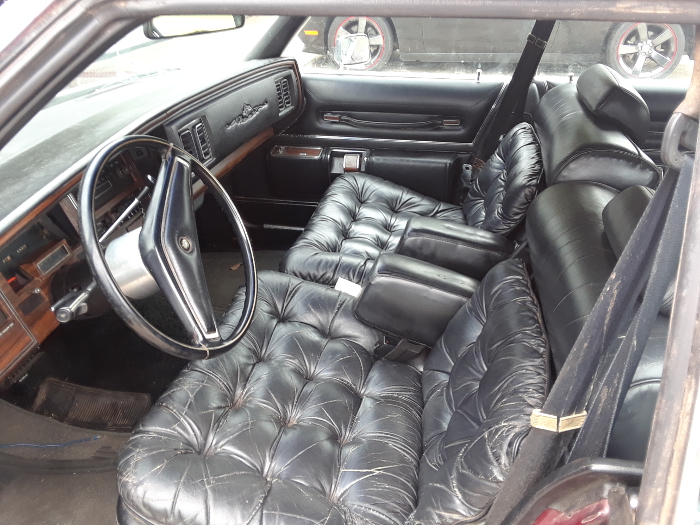 The interior of the LeBaron untouched after being rescued.
Owners John McCall and Joe Shepherd found this car in 2018 on E-Bay in a sad state, but in the State of Georgia, and not too far to manage hauling her to new shelter in an airplane hanger and garage in Fayetteville, Georgia. The car had been sitting for some time and was obviously in an out-of-doors/under-a -tree situation. Her vinyl roof was severely delaminated but the actual metal below had miracuously escaped any severe rust. The strongest part of the car in-situ was her interior which is almost like new. It did not take long to get the 440 V-8 back to life and after new disc brakes, a tune up, new tires and a general first clean-up she is ready for the road again. As predicted, the Torqueflite transmission needed only a precautionary fluid change. After some power window repairs, the Red LeBaroness is scheduled to receive new paint in the original Vintage Red Metallic. The vinyl roof is to be changed to black rather than the factory red. A credit to Chrysler's brilliant engineering is the taught, rattle-free ride and front end. The great amount of well-designed weatherstripping and window seals saved the interior, which is stunning, right down to the high-pile carpeting. Equipped with an AM/FM 8-track optional radio, Frank Sinatra never sounded better or more in step with the year 1975.
John McCall knew a good deal about these "C Body" Imperials having stared longingly almost daily at a new 1975 LeBaron Crown Coupe on the dealership floor at DeKalb Chrysler-Plymouth in Decatur, Georgia. That stunning Silver Cloud Metallic LeBaron with Burgundy leather was just not to be, but McCall soon found a 1974 LeBaron four-door hardtop in Deep Sherwood Metallic with tan velour and a tan vinyl top at the same dealership. The car was a one-owner trade-in and performed perfectly ... but the idea of having one of the last Imperials [last, at the time, and some believe for all time] was still on the agenda. Lo, all the new 1975 Imperials vanished fairly quickly and when McCall was finally in a financial position to buy a new one, that proved to be impossible. But he had another idea. By 1976, the Imperial was actually soldiering on as the New Yorker Brougham and McCall placed an order for a Spinnaker White with burgundy leather example. When the car arrived at Buckhead Chrysler-Plymouth in Atlanta, he had already stockpiled every item from the parts department that distinquished the 1975 Imperial from that of the 1976 Brougham. This included the distinctive "shield" side marker lights. Except for the latter, the owner was able to literally snap on the other assorted scripts, the horn and hood emblems, and even the dashboard crash pad. He took his new "Imperial" to Hayes Chrysler-Plymouth where the Hayes body shop did an undetectable job of removing the standard side marker lights and replacing them with the unique shield-with-eagle versions. The Lean-Burn factory set-up on the 440 engine remained intact and never gave any trouble. This car was aptly named The White Baron and rendered many miles of superior service. You could even find a 1975 Imperial owner's manual in the glove box. Unfortunately, replacing the rear window with the smaller limousine-style backlite never materialized. Dyed-in-the-wool Imperial spotters knew instantly that this was a Brougham in Imperial clothes! She was later sold to a university colleague.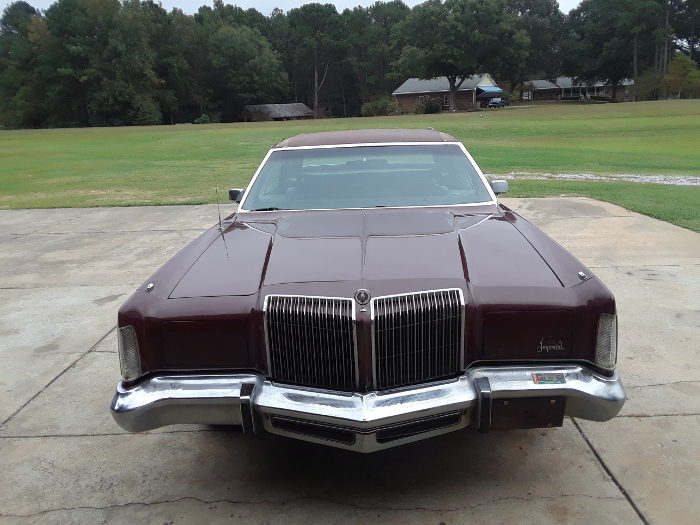 The Red Lebaroness soon after being hauled from a barn near Hawkinsville, GA.

McCall did not acquire his first real 1975 Imperial until he found one in Tampa, Florida in the 1990's. This Starlight Blue Metallic with coordinated roof example had seen some some hard servitude but cleaned up remarkably and again, gave trustworthy performance. When McCall apprised fellow collector and friend Joe Shepherd regarding the present Imperial, Joe was ready to partner in the acquisition and restoration. Shepherd is now a confirmed Imperial enthusiast. In fact he is now a "C body" aficionado. The Plymouth Furies and Dodge Monacos of this era are also interesting and well built cars, representing the last gasp of Chrysler Corporation's land yachts. Hopefully, the Red Baroness will soon be featured here in her new paint and vinyl halo roof. Despite her somewhat tattered appearance presently, she has been a joy to drive. In fact, Chrysler Corporation said it best in its sales brochure:

The 1975 Imperial is ...

Completely committed to every comfort. Totally confident of every comparison.
We hope John and Joe will keep us posted on their restoration and send us updates of their progress with this very nice Imperial.