Restoration tips and parts suppliers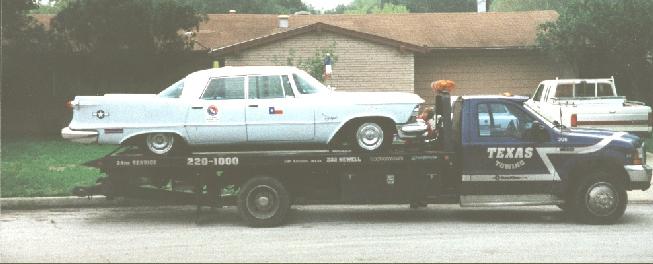 Sometimes you just have to get by with a little help
---
Click on images to enlarge




Chassis . . . . . . Torsion Bars . . . . . . 392 Hemi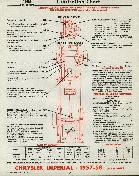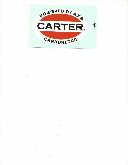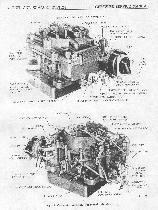 Lube chart, carter sticker & 2 Carter C2651S images







My air cleaner and my brake booster and vacuum tank







The brake master cylinder, carb close up and the whole engine bay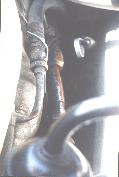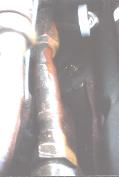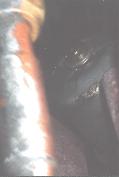 The position of the oil filter makes access lots of fun for the contortionist


---




These cars, like any other forty year old car, have their challenges. A Factory Service Manual is an absolute must. Getting parts for them, thanks to the internet, is not as hard as you might think. All in all, except for absolutely standard items, local parts stores are not very good. NAPA does not even include the 392 Hemi on its computer system. Autozone does, but can rarely get the parts they list. Air cleaners, oil filters, are all special order items. I have, over the years, come across some reasonable ways to overcome the difficulties and will do my best to share what I know with you. Please use the response page to write to me about a specific issue if it is not covered here.


---
Replacing a rear wheel brake cylinder
---


Click below for text and pictures that describe the task in detail

•Replacing a rear wheel cylinder•



---
Here is a small list of suppliers that I have used.
---


Power Play Hemi, AKA 'Hot Heads' – http://www.powerplayhemi.com
This place is the best place I have yet found for parts for the Hemi. I have purchased a replacement Head, intake and exhaust valves, the valve seats, a complete gasket set and the special plug wires. I have found them to be friendly, knowledgeable, expedient and reasonable.
---


Andy Bernbaums – http://www.oldmoparts.com
Bernbaums provide a catalog. They do a nice line in brakes, wheel cylinder, rubber parts and a hundred and other smaller trim items. Definitely a good place to start. My dealings with them have been very fair and fast.
---


Karps – http://www.resleeve.com
Karps is the only place in the world making new brake booster sleeves for this era of Mopar. Their product is fabulous and very reasonably priced. They can supply with the concertina style rubber by itself, or you can ship your entire bellows unit to them and they will fit it for you.
---

Dr. Mopar – http://www.drmopar.com/
Dr. Mopar has a scrap yard devoted exclusively to Mopar product. He even has two 1958 Imperials. He does most of his business over the internet. He is located in between San Marcos and Bastrop, Texas.
---

Wildcat Auto Wrecking – http://www.wildcatmopars.com/
Wildcat provides excellent service. Another very good place to start.
Quality Engineered Products.
PO BOX 548, W. Linn, OR 97068. (503) 656-4545

Not sure if this guy has a web site or not, but he makes some very useful stuff. You can no longer get a mechanical fuel pump for a 392. But with a clever little spacer this guy sells, you can fit an absolutely standard Dodge mechanical pump straight of the shelf. Lovely!



---

Here is a miscellaneous parts list, and their numbers.

---



Air Filter - NAPA 2030
Brake Cylinder (Rear wheels) - NAPA 32555
Brake Light Switch - NAPA SL136

(This is correct only up to a point. There may be an absolutely correct part available. This part will work very well, but will need an adaptor. The part has a 1/8 inch pipe thread and the bottom of the master cylinder is 1/4 inch. However, an adaptor is readily available, and barely affects appearance. All you will see is an additional 5/8 inch hexagonal nut. A very small proce to pay for being able to get the part off the shelf.)

Carburetor C2650 & C2651s rebuild kit - 96-113D (GP Sorensen)
Lower main radiator hose - 3729
Oil Filter - NAPA Gold 1080
Power Steering Pump Belt - KS 15420
Spark plug - AC Delco R44 XLS
Temperature Sending Unit - Eichlin TS 6460
Thermostat - NAPA 191


---
More Stuff Coming Soon
---
Site Navigation & Links
•Site Entry•
•Dimensions, Statistics, Facts and Figures•
•The Imperial: A Brief History•
•My story, Part 1. From my first to my current owner•
•My story, Part 2. From 1994 to 1998•
•My story, Part 3. From 1998 to the present•
•Cracked head woes in 2001•
•Photo album•
•Tom McCahill's 'Mechanix Illustrated' 1958 Imperial Review;
•Other 1958 Imperials•
•Other 1958 Cars•
•1958 Imperial Advertising images•
•News & Trivia from 1958•
•Mecnaical Info: Parts, Suppliers•
•Imperial Links - Web Sites, Books, Videos, Etc•
•Family & Friends•
•Contacting Mrs. Blueberry•


---
Site Established: May, 22, 2001
copyright ©2001