Paint and Body Work 101
---
Imperial Home Page -> Repair -> Body & Sheet Metal -> Paint and Body 101
---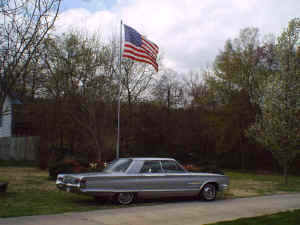 When I painted Elijah Scott's 71 Imperial a couple years back, we were under a serious time constraint and took a few shortcuts. Since then I've painted a few more cars and learned a couple things. My next two projects both have paint requirements so I thought I'd do another saga. The first car is a 1966 Chrysler 300. Yeah I know, it's not an Imperial but paint is paint and I discussed it with the webmonsters and was encouraged to document the process even though it is not an Imperial being painted.
This will be somewhat different process than Elijah's car because it is a color change. I am using some different paint and body products also. Elijah's car was painted with PPG Acrylic Enamel (hardened). We had a terrible fisheye problem that required some serious wet sanding and buffing. This time I'm using a new urethane paint line from PPG (Omni AU), including fisheye eliminator in the paint mix, a new urethane putty for dings (instead of heavy coats of primer), a new dry guide coat product, and a new HVLP gravity feed paint gun. I used the HVLP (High Volume Low Pressure) gun when I painted Robert Soule's Mercedes last year and really liked it. I liked it enough that I bought an additional gun. More on that later.
The 300 is currently white with a burgundy interior. The new color will be metallic silver. Of course a color change has a whole set of problems that we did not have with the 71. The trunk, inner fenders and firewall, door jambs, and anywhere else that is currently white has to be addressed. In addition, this car has a dent that has to be removed as well as 120K miles of door dings and a few rust spots. The color change will be the hardest part. On Elijah's 71 we just took an airbrush and touched up the dull paint in the jambs and it looks great. The 300 will require full coats of paint in all these areas..
The second car is a 68 Imperial convertible that I hope to get to later this year. This paint saga will be an ongoing work in progress.
I've changed the size of the thumbnails to a slightly larger format. If this increased the download time significantly for those on a dialup line, please email me privately and I'll switch back to the smaller size. As always, clicking on the thumbnail will open a larger image.
Enjoy!
Kerry Pinkerton Man Hours per Task
| | | |
| --- | --- | --- |
| Task | Man Hours | Running Total |
| Stripping the trim | 14 | 14 |
| Rust repair and body prep | 34 | 48 |
| Detail Engine Compartment | 14 | 62 |
| Prime and Block and Prime and Block etc. | 57 | 119 |
| Base and Clear on top | 4 | 123 |
| Painting the rest of the car | 8 | 131 |
| Touchup, fixing runs, wet sanding, and buffing | 44 | 175 |
| Spraying jambs | 20 | 195 |
| Re-installing trim | 46 | 247 |
| | | |
| | | |
| | | |
| | | |
| | | |
---
This page was last updated October 1, 2003. Send us your feedback, and come join the Imperial Mailing List - Online Car Club
---